Any comments or complaints?
Autres informations et services officiels : www.belgium.be
Any comments or complaints?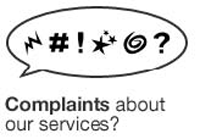 The FPS P&O sets much store by the quality of the service it provides. In the unfortunate event however that you would be dissatisfied with the service you have received, or if you feel your comments may help us to improve our services even further we would ask you to contact the FPS P&O complaints manager. He will painstakingly investigate every complaint and try to come up with a satisfactory solution. He will also do everything in his power to ensure that similar complaints can be avoided in the future and to improve the workings of the FPS P&O. This complaints procedure does not affect your statutory right of appeal.
How to submit a complaint:
Preferably via our online complaints form. Click here.
At reception (Wetstraat 51, 1040 Brussels)
By calling 02-790 58 00 and asking for a complaints form to be sent out to you
By letter (FPS P&O, Complaints Manager, Wetstraat 51, 1040 Brussels)
Needless to say, we would appreciate it if you would substantiate your complaint and explain how you feel your personal interests have been affected. To ensure that you complaint will be dealt with satisfactorily and expeditiously, we would ask you to include your name and address, and preferably also your e-mail address.
Although our complaints manager is unable to deal with complaints that have no bearing on the FPS P&O, he will try his utmost to refer your comments to the relevant services.
Every complaint will be acknowledged by return. The complaints manager will send you a detailed reply within 30 calendar days of having received your correspondence.
Still feel you didn't get any satisfaction?
If you are unhappy with the way your complaint was dealt with in first instance, you are welcome to approach the Federal Ombudsman, Leuvenseweg 48 bus 6, 1000 Brussels (info@federaalombudsman.be)