Any comments or complaints?
Autres informations et services officiels : www.belgium.be
Any comments or complaints?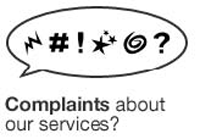 Do you have a remark or a complaint about BOSA?
Quality of service is a matter of great importance to the FPS Policy and Support. If you have any remarks or complaints, feel free to communicate these to the complaint coordinator at the FPS Policy and Support.
Which types of complaints can you make?
Complaints may relate to:
the services and/or products of the FPS Policy and Support
the quality of said services and/or products
the manner in which a complaint was dealt with
the enforcement of legislation

If your complaint does not fall within the competence of the FPS Policy and Support, it will not be handled but will be handed to relevant authorities.
Complaints are not in any way a substitute for an appeal procedure provided for under a legislative framework.




How to make a complaint
What will happen to your complaint?
You will:
immediately receive the acknowledgement of receipt
receive a reasoned reply within 30 calendar days.
Our services will ensure that complaints will be handled in accordance with the requirements of the General Data Protection Regulation. Personal data will only be consulted when relevant to the handling of the complaint.
If you are dissatisfied with the reply you've received, you can contact the federal ombudsman:
Rue de Louvain 48 bte 6/Leuvenseweg 48 bus 6
1000 Brussels